Hooligan rating: 6/10
What a bizarre year 2016 was for Ben Affleck. He starred in one of the worst Batman and/or Superman movies ever made — wasn't his fault, I know. He made a pointless and confusing cameo in the second worst DC movie his year (Suicide Squad). He teamed up with Jon Bernthal for the underrated but kinda good, The Accountant. But it didn't do much at the box office. Finally, Ben returned to the director's chair, with a screenplay baring his name, along with a starring role in Live By Night.
This one is all on him. Okay, so it's not that bad. But, it's really not all that good either.
Based on the novel by Dennis Lehane (Gone Baby Gone, Mystic River), the film is bogged down by an overloaded back story for Joe Coughlin (Affleck), then slingshots him through his evolution to big shot gangster without much of a depth of explanation other than "because this is what happens next….".
After a fallout with his crime boss mentor over a shared love interest (Sienna Miller), Joe finds himself caught up in a gang war, hell bent on revenge that sets him on a path that takes him to Miami and the world of bootlegging during the Prohibition. It's all pretty standard gangster picture material, just less interesting.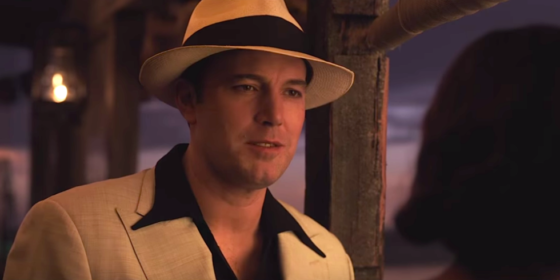 But this is where the film struggles. It's like it's not sure what it wants to be about. Is it a revenge tale? A love story? A gangster picture? I think it wants to be all of these things, but it doesn't do any of them right. The chemistry between Affleck and the Miller is never enough for the audience to believe she's worth the trouble. Then once he gets to Miami, it's like they started making a tonally different movie and forgets where it was, before getting wedged back in during the anti-climactic final act.
As a director, Affleck seems to struggle to adapt the novel's layers of the story and character into a cinematic narrative that feels focused enough to devote an emotional give a shit. Normally, the man directs a fine movie. Gone Baby Gone, The Town, and Argo all developed a tight tension that endured throughout, but for whatever reason he just isn't able to create a driving beat that makes us want to get on board with these characters.
Instead, Live By Night grows at a snails pace and just when you think it's about to get interesting…well, it doesn't.
As an actor, he looks even more lost. Affleck plays the role as a sour puss, but really never looks comfortable in the role. It's like he doesn't buy himself as this dude. The rest of the cast turn in fine, if not uninspired performances. Elle Fanning, Zoe Saldana, Chris Messina, and KC native Chris Cooper are all on hand. But they all feel like characters from different movies. Maybe Live By Night would have worked better as an HBO series, but as a movie it feels good, but it never gets good. Then again, maybe some stories just read better than they play out on the silver screen.
It's not a total loss. The scenery is gorgeous and it's really nice to take the gangsters out of the city — even nicer to get Ben out of Boston. Cuba populated Miami makes for a great change of pace from a production design standpoint, but unfortunately the filmmakers never take advantage of the locales to infuse any passion into the story. And it shows.
Live By Night clocks in at 2 hours 8 minutes and feels a lot longer.
Live by Night movie trailer
Photos and video are property of Warner Bros. Studios