The Dark Knight looms as the overwhelming favorite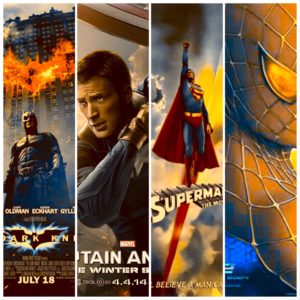 The Reel Hooligans podcast has announced it's 64-movie field for their upcoming Hooligan Madness tournament to determine the Best Comic Book Superhero Movie ever. The Dark Knight (2008) was named as the overall #1 seed of the tournament and landed in the Multiverse Region of the bracket. Captain America: The Winter Solider (2014), Superman (1978) and Spider-Man 2 (2004) were also named top seeds in the Golden Age, Cinematic Universe and Modern Age Regions, respectively.
Nearly 160 movies were considered dating as far back as the 1966 Batman and as recently as the upcoming Spider-Man: Far From Home. The movies where narrowed down to 64, then split up into 4 regions — The Golden Age, The Modern Age, The Cinematic Universe and The Multiverse.
You can see a full list of the movies and seedings in their regions below.
Download a printable HOOLIGAN BRACKET here.
The first two rounds of the tournament will be determined on Sunday July 7, when the Reel Hooligans record from the Screenland Armour movie theatre in Kansas City, Mo.
Subscribe to the Reel Hooligans podcast on Spotify, iTunes, Podomatic, GooglePlay or wherever you prefer to find your podcasting entertainment.
BEST COMIC BOOK SUPERHERO MOVIE EVER TOURNAMENT FIELD
GOLDEN AGE

MULTIVERSE

Captain America: The Winter Soldier (2014)

Wonder Woman (2017)

Superman II (1980)

Avengers (2012) 

Spider-Man (2002)

Unbreakable (2000)

Batman Returns (1992)

Deadpool (2016) 

Kick-Ass (2010)

Spider-Man: Far From Home (2019) 

Captain Marvel (2019) 

Blade II (2002)

Man of Steel (2014)  

Flash Gordon (1980)

V for Vendetta (2006)

Dredd (2012)

The Dark Knight (2008)

Iron Man (2008)

Guardians of the Galaxy (2014)

Avengers: Infinity War (2018) 

Men in Black (1997)

X-Men (2000)

The Crow (1994)

Hellboy 2: The Golden Army (2008)

Watchmen (2009) 

Thor (2011)

Spider-Man: Homecoming (2017) 

Shazam (2019)

Super (2010)

Ant-Man (2015)

Batman Forever (1995) 

Superman Returns (2006)

CINEMATIC UNIVERSE

MODERN AGE

Superman (1978)

Batman Begins (2005)

Logan (2017)

Avengers: Endgame (2019)

Black Panther (2018)

Sin City (2005) 

Doctor Strange (2016) 

Captain America: The First Avenger (2011)

Guardians of the Galaxy vol. 2 (2017)

Batman the Movie (1966)

X-Men: Days of Future Past (2014)

The Rocketeer (1991)

Hancock (2008)

RED (2010)

Iron Man 3 (2013)

The Wolverine (2013)

Spider-Man 2 (2004)

X2: X-Men United (2003)

Batman (1989) 

Road to Perdition (2002)

Captain America: Civil War (2016)

Thor: Ragnarok (2017)

Blade (1998)

Scott Pilgrim vs. the World (2010)

Edge of Tomorrow (2014)

The Dark Knight Rises (2012) 

X-Men: First Class (2011)

Avengers: Age of Ultron (2015)

Wanted (2008)

Deadpool 2 (2018)

Aquaman (2018) 

Spawn (1997)