HOW CAN YOU BECOME A REEL HOOLIGAN?
Think you've got what it takes to sit down and go round and round with the Reel Hooligans? Good, because it's really that hard. Look. We love to talk movies and just have a good freaking time. We get a little crazy sometimes, but that's where it gets fun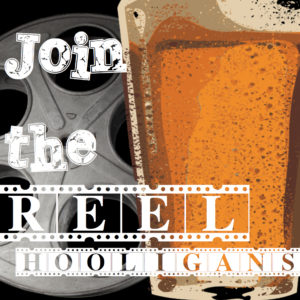 We're looking for guests — join us for a single episode, or become a Hooligan regular!! (we'd totally dig that, too!) Talk movies. Play games for bad ass prizes (Tim creates all of the Hooligames for each episode.) Make new friends.
Once a Hooligan. Always a Hooligan.
WHO ARE THE REEL HOOLIGANS?
Led by Kansas City film critic, Tim English (Scene Stealers, KC Live!, Better KC), we're just a bunch of trouble makers who love to sit around and talk about the latest movies — the good, the bad, and yes the ugly.
The best thing about movies is the conversation. Movies may reflect society and life, but we all interpret them differently. So let's takes these suckers apart and analyze the hell out of them.
WHO CAN BE A HOOLIGAN?
Literally everyone is eligible to join us.
Do you have a project you'd like to pimp on our show? No problem. Again, we're pretty easy like that. If you're a filmmaker, actor, producer, what have you, hit us up and we can build a show around you and your project. Come in and sit around the Hoolidesk, or we can do a phone interview — so if you don't live in Kansas City (cuz we do!) — no problem!!
The good news is you don't have to be any of these to join us. You just have to love movies…(a love of beer and a good whiskey is good too, but not required!)
WHAT DO HAVE TO DO TO BECOME A REEL HOOLIGAN?
First, listen to a few episodes of the show. Still wanna join? Yeah, you do. Next, check out our upcoming episodes and see if we've got an episode you wan to be a part of. Don't care which episode? We like your style.
Now, follow us on social media: Facebook, Twitter, and Instagram below — and then email us to find out more information on how you can join the Reel Hooligans!!
Write for the Reel Hooligans! We're looking to add up to 5 contributors to the Hooligan family! (more info)
CONTACT THE REEL HOOLIGANS: EMAIL