It's a 'Tim and Lo Show' reunion this week on Reel Hooligans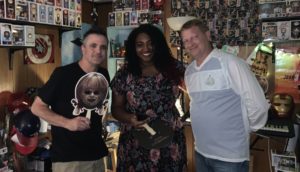 This week, it's a very special episode for our loyal Hooligans. Tim's former traveling companion, Lonita Cook (Better KC, In KC Magazine) joins Tim and David to talk Toy Story 4, Annabelle Comes Home — plus toys they loved as kids and what toy lines need movies. Grab a drink and journey down memory lane.
Follow us on Spotify, iTunes, GooglePlay or wherever you subscribe to podcasts.
Episode 3.18: Toys and Dolls with guest co-host Lonita Cook:
Annabelle (2019) trailer audio property of Warner Bros.:

Toy Story 4 (2019) trailer audio property of Walt Disney Studios and Pixar Animation: