Party time — Oscar-style!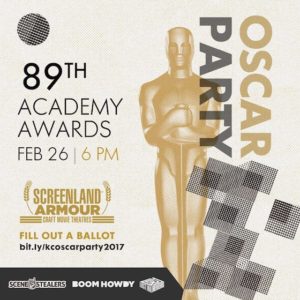 Kansas City's coolest movie cats are assembling on February 26, 2017 for the Scene-Stealers, Boom Howdy and the Lost in Reviews Podcast at the Screenland Armour theatre for the biggest movie party of the year!
It's time for the 5th annual Kansas City Oscar Party!
Celebrate Hollywood's Super Bowl by getting together with the biggest movie geeks in KC. Watch the Academy Awards broadcast on the big screen, play the best Oscar-themed drinking games, test your movie IQ and compete for prizes with some Oscar movie trivia, and try to best the rest of KC by picking the most winners correctly on your ballot!
View 89th Academy Awards nominees
The winner gets a huge prize and all runners up get their pick of goods from our massive table of movie memorabilia donated by the Alamo Drafthouse Kansas City and Screenland Theatres!
The Kansas City Oscar Party 2017 will be at the Screenland Armour, complete with a food and cash bar.