Gunn's Guardians leads Marvel's 2017  triple play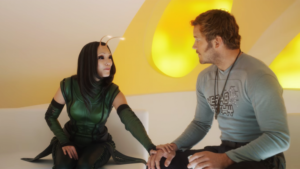 Three years, Marvel proved it may be invincible by turning one of its failed comic book properties, a rag tag team of anit-heroes that included a talking tree and raccoon, into one of the biggest movies of all time. Now, the Guardians of the Galaxy are back and they've got a stinking cute Baby Groot that is literally going to haunt your dreams this year. Cuz that bastard is going to be everywhere.
Guardians of the Galaxy vol. 2 returns James Gunn as writer and director, as well as original stars Chris Pratt, Zoe Saldana, Bradley Cooper, Dave Bautista, Vin Diesel, and Karen Gillan. The sequel will feature Pom Klementieff as Mantis, Kurt Russell as Ego the Living Planet, and Sylvester Stallone as who knows?
In theatres May 5, 2017. Check out the Super Bowl TV spot, the freakin' extended version.
Guardians of the Galaxy vol. 2 extended Super Bowl Spot