Tank 7 Farmhouse Ale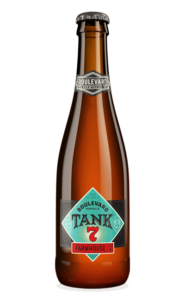 Congratulations to the Tank 7 Farmhouse Ale from the Boulevard Brewing Company.
For the inaugural winner of the Reel Hooligans Beer of the Month, I went with one of my favorite brews from one of the amazing local breweries we have here in KC.
Don't worry, they won't all be homer picks, but this beer deserves a little nod to get this party started.
This beer is one of my favorites because it goes down like a light beer, but has a nice rich flavor, even a bit fruity. I'm not normally a fruity beer drinker and I wouldn't classify this as such, but it just has a bit of a tart citrusy flavor that pairs nicely with the hops.
For more information on the Tank 7 Farmhouse Ale, including food pairings and such, if you're in to all of that.