It's Morphin Time!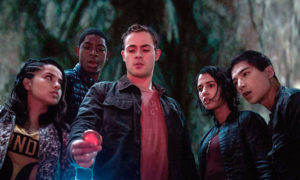 I was just above the target when Mighty Morphin Power Rangers debuted in 1993 — and I've got kids who never got into them — so I have zero opinion on this movie. I get the hype because of my passion for a few franchises and I know some of our listeners and readers are absolutely freaking out for the big screen adaptation.
Feel free to comment below and enlighten me. For you fans, is this looking like what you always hoped a big budget, theatrical movie would look like? Hopes? Fears? 
Power Rangers hits theatres on March 24 and stars Naomi Scott, Becky G., Darce Montgomery, Ludi Lin, RJ Cyler, in addition to Elizabeth Banks, Bill Hader, and Bryan Cranston.
Power Rangers movie trailer #2: