That was fast. Nearly 48 hours after unceremoniously firing Chris Miller and Phil Lord as co-directors of the highly anticipated Han Solo movie, Lucasfilm has tabbed the "King of the All Gingers", Ron Howard to finish the project, which is due in theatres May 25, 2018.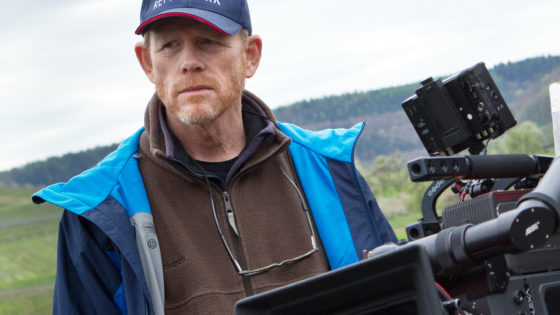 Howard is expected to be on the set immediately, meeting with cast and crew, and reviewing the script and footage that's been shot already. The Untitled Han Solo movie has been shooting since February and still has three weeks left in principle shooting with an additional five weeks of re-shoots expected to take place, depending on how much the new director feels needs to be re-addressed.
Here is the official statement from Lucasfilm president Kathleen Kennedy.
"At Lucasfilm, we believe the highest goal of each film is to delight, carrying forward the spirit of the saga that George Lucas began forty years ago. With that in mind, we're thrilled to announce that Ron Howard will step in to direct the untitled Han Solo film. We have a wonderful script, an incredible cast and crew, and the absolute commitment to make a great movie. Filming will resume the 10th of July."

Kathleen Kennedy, President of Lucasfilm
Needless to say, this should be interesting. And how will Howard receive credit? He could work with no credit or he may just share the directing credit with Lord and Miller. If something isn't agreed to, the Directors Guild of America will decide.
Howard is an interesting choice. He's a safe choice because he's been around the Hollywood block many times. At this point they need a guy that can just come in, say 'this is good, this will work, cut this, re-do that' and make good with the cast. He's not exactly a guy I ever would have pinned for a Star Wars movie, but he's made good with good material in the past. Let's hope the Force is with him.
Best known for first appearing as a child in the beloved Andy Griffith Show and Howard has developed into one of Hollywood's great story tellers with Splash, Parenthood, Apollo 13, The DaVinci Code, A Beautiful Mind and Rush among his many directorial credits.
Han Solo stars Alden Ehrenreich as Han Solo and Donald Glover as Lando Calrissian, with a cast that also includes Woody Harrelson, Thandie Newton, Emilia Clarke and Phoebe Waller-Bridge.