Boseman, Black Panther go solo before joining The Avengers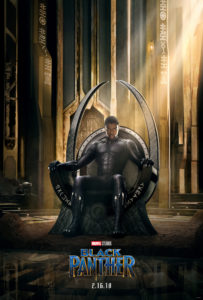 At least Marvel gave NBA fans a reason to tune in to the less than competitive 2017 NBA Finals when they unleashed the first trailer for Black Panther during game 4 of the series between the Cleveland Cavaliers and the Golden State Warriors. To be fair, the Cavs ended up winning this game, their lone win in the series.
As for the trailer, it doesn't show much in regards to the plot of the flick, opting for the typical montage of action scenes and character reveals set to the slick jam, Legend has It by Run with the Jewels. The film features star Chadwick Boseman as T'Challa aka the Black Panther, King of Wakanda, who made his scene-stealing debut in Captain America: Civil War in 2016.
"You're a good man, with a good heart — and it's hard for a good man to be a KING."
The incredible cast boasts an impressive list of actors, including Lupita Nyong'o (12 Years a Slave), Michael B. Jordan (Creed), Danai Gurira (The Walking Dead), Angela Bassett (Strange Days), Daniel Kaluuya (Get Out), Andy Serkis (War for the Planet of the Apes), Sterling K. Brown (The People vs. OJ Simpson), Winston Duke and Forest Whitaker (Rogue One.)
Black Panther hits theatres on February 16, 2018 and is the final warm-up before part one of the grand finale for the Marvel Cinematic Universe. The first chapter of Avengers: Infinity War is set for May.
Black Panther Teaser Trailer: