Liana Liberato is a Texas girl, born and raised in Galveston until the age of 9. She's moved on to L.A. now, as most actors eventually have to do, making that transition from the midwest to the west coast where her biggest transitional hurdle came in getting used to what is considered Mexican food out in California, compared to what she was used to back home.
Maybe you've seen her before. Recently, the soon to be 18-year-old Liana played Nicolas Cage's daughter in the Joel Schumacher film, Trespass. She's also appeared in guest spots on a number of hit television shows from Sons of Anarchy to House, M.D.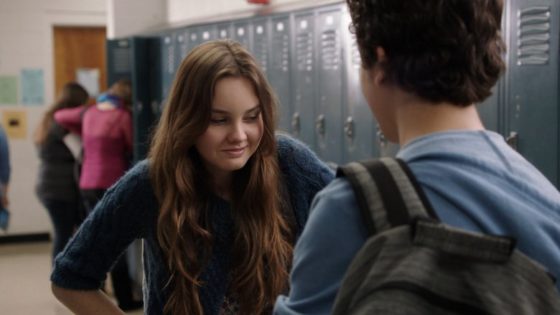 If you don't know her yet, you will. Her scene stealing performance in the upcoming Stuck in Love, where she plays the drug addicted love interest to the film's writer protagonist, played by Nat Wolff, is sure to turn some heads.
So how does a girl go from Galveston get to the glitz and glamour of L.A., while racking up an impressive resume that includes working a slew of Academy Award nominees including Greg Kinnear and Jackie Weaver? Like most actors, she started in theatre, but it was a family trip to L.A. that landed her in an acting class that changed her life.
"Because I was crazy and because my parents wanted me out of their hair, they put me in an all-day acting class…so they wouldn't have to deal with me probably," Liberato explains. "And it just so happened there agents auditing the class and I ended up getting signed."
That chance meeting launched was is quickly becoming a promising career, allowing her to work in both film and television with some of today's most talented actors. Her first gig came in 2005 in a guest starring role on "The Inside", then came appearances on Cold Case and CSI: Miami before she started landing small roles in feature films. At this point in her career, she has no preference, saying the each have their advantages.
"I feel like television is in its prime. There are some amazing television shows out," she said. "I don't necessarily have a preference because I do have television to thank for building my resume and getting me in the door to film.
"Television is a lot more fast past paced, where with films you really have the ability to get to know your characters. When I was doing guest star roles, I was only one like one episode of a thirty minute to an hour show, so you don't really have time to get to know my characters."
While her recent work has been in motion pictures, Liana does have one show she'd love to make an appearance on.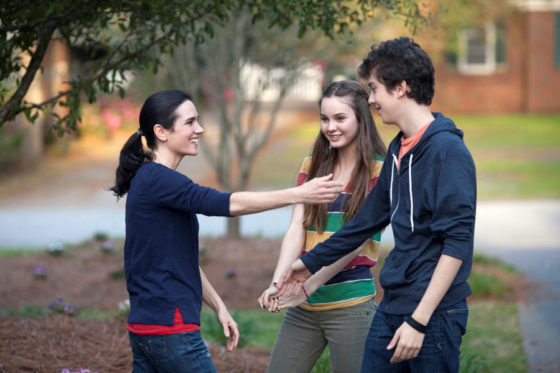 "I love 'The Walking Dead' but I don't wanna be an actual prominent character on the show," Liberato said with a big smile. "I just wanna be a zombie. I wanna have like a cameo kill and have that really cool arrow shot to the head type thing."
Sounds like she is destined to make the In Memoriam segment of Talking Dead. As for the here and now, Liana is on the road, doing publicity for Stuck in Love, a romantic comedy from writer and director Josh Boone, making his feature debut.
The film stars Greg Kinnear, Jennifer Connelly, as well as a talented group of young up and coming actors including Lily Collins, Nat Wolf, Logan Lerman, and Patrick Schwarzenegger. Liberato plays Kate, a troubled teen with a wild streak who helps give Nat Wolff's character a few life experiences — the kind a young writer needs in order to be great.
"It's incredibly rare to find a film with a solid ensemble cast, so that is what initially drew me to it," she said. "It was really fun, but I normally work with people who are a lot older than me so it was very refreshing to be around Logan and Lily and Nat and Patrick.
"It was nice because I've never really hung out with people my age before on a film set."
Playing a drug addicted teenager is clearly Liberato's most challenging role to date, but she says that is exactly what drew her to the role.
"The reason I like the role was because I actually had to go out and figure out 'okay, how am I going to do this'" she said. "I've never been in that situation before and I wanted to make it as authentic as possible."
"I actually met with a girl who was a recovering addict who I was able to talk to whenever I wanted and ask question, figure out kinda what goes on in her mind. She went through a similar situation that Kate did, so that was helpful."
Obviously the big theme of Stuck in Love is love. The film examines several characters and their unique insights and perspectives on love and how they deal with the pains of loving, many of which are fairly bitter, at least initially. Thankfully, she didn't let jaded view of the characters have any affect on her own life.
"I like love," she said with a laugh. "I do, I feel like in life you're always going to run into mishaps and problems but I feel like it's important love hard and never really give up."
With Stuck in Love set for release, Liberato's schedule isn't going to get any lighter.
She has a number of films she has completed that are coming up over the next two years. One of them is her first horror movie, Haunt, which hits theatres on Oct. 11, and stars Jackie Weaver. Needless to say, she's excited about it.
"That was my first scary movie, and it was awesome." Liberato said. "Jackie Weaver is awesome. She's so cool and she's really creepy in it."
Stuck in Love gets a limited release on July 5. Check your local theatres for availability and showtimes.