Yo Ho Yo Ho We've Seen it All Before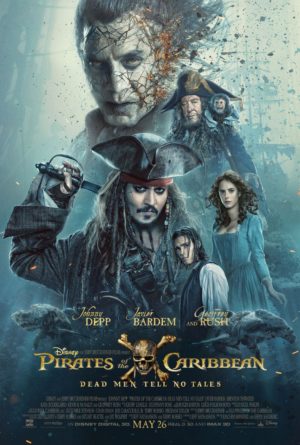 There's something very familiar about this tale. Stop me if you've heard it before.
In Pirates of the Caribbean: Dead Men Tell No Tales, a young lad named Turner and a stubborn young lady join forces with the legendary Captain Jack Sparrow (Johnny Depp) and set off on a whirlwind adventure across the sea, battling cursed pirates and trying to outrun a vengeful British Navy —
Yeah. Sounds a lot like 2003's The Curse of the Black Pearl, eh? That appears to be par for the course for Disney and their recent history of rebooting/sequelizing their big franchises. Take what worked before and just kinda do the same thing with new people. Only 14 years later, this Pirate adventure feels all too familiar and the new parts aren't nearly as fun as the old ones.
The new Turner, Henry, son of Will and Elizabeth (Orlando Bloom and Keira Knightley) is played by Brenton Thwaites. His love interest, a woman of science, but presumed to be a witch, is Carina Smyth (Kaya Scodelario). Bad news when they don't have a ounce of the chemistry as their counterparts from the earlier movies. Captain Jack is thankfully pushed aside to allow for some new growth, and he really offers very little to the movie. So when things slow down to allow Henry and Corina to "develop" it's painful.
In an attempt to tie it all back to the first, young Henry is seeking the Trident of Poseidon in order to break the curse that bonds his daddy to the Flying Dutchman. Carina seeks it for her own reasons and has some backstory that is a nice touch as forced as it may feel.
The good news is there are plenty of old faces returning, and a new villain who is having a lot of fun. Geoffrey Rush is back as Barbosa and Javier Bardem joins the cast as the cursed Captain Salazar, who seeks revenge on Captain Jack for some crap that is kind of explained in flashback that fails to explain Salazar's curse.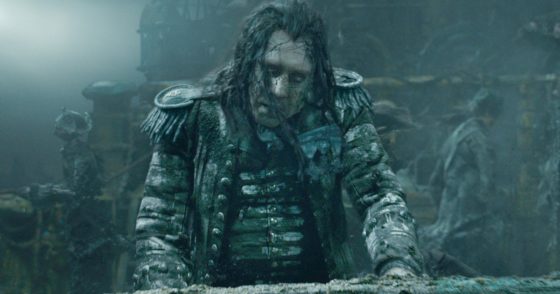 And there is still a sense of fun to be had. The music sounds great and directors Joachim Rønning and Espen Sandberg have created some fun action sequences and some imaginative set pieces. Pirates of the Caribbean is one of my favorite rides at Disney and the little things that get dropped here, like the title — when Bardem utters that line, "Dead Men Tell No Tales"…yeah, I got a little giddy.
But the truth is we've seen it all before. And because of that, Dead Men Tell No Tales, much like Depp's tired act as Captain Jack, lacks that magical spark.
Pirates of the Caribbean: Dead Men Tell No Tales Teaser Trailer