What, happens when a couple of Hooligans start time jumping through film history. Thus begins the course of our new format as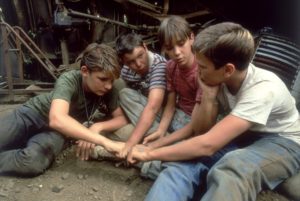 Tim and David will time jump through genres and filmmakers and decades of geek out movie history.
This week the Reel Hooligans discuss Eternal Sunshine of the Spotless Mind (2004), The 39 Steps (1935) and Stand By Me (1986), bouncing throughout nearly 70 years of filmmaking covering influences ranging from Alfred Hitchcock to Stephen King to….Keifer Sutherland?
Listen for a chance to win a blu ray copy of Green Book, the 2019 Academy Award winner for Best Picture.
Follow us:
Facebook: www.facebook.com/reelhooligans
Twitter @ReelHooligans
Instagram @Reel_Hooligans
Reel Hooligans ep. 3.03: Time Jump Begins