Do you love to write? Good…cuz we need writers!
Do you love dissecting movie trailers or nitpicking the latest casting rumors? We like your style! Are you the number one fan of some badass TV show that nobody appreciates as much as they should? Tell us what we're missing! Do you just need an outlet to make your voice heard? You sound like a Reel Hooligan, my friend.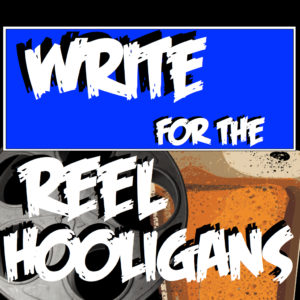 Reel Hooligans is looking for writers, bloggers, and contributors. You don't have to be a pro, you just have to love movies, or TV, or comics…and be pretty decent about writing about your passion.
This a non-compensation writing gig, but it's a good way to get your name out there and we give you a place to share your geekiest thoughts with the rest of this strange and beautiful world.
Plus, if you're cool enough, you might even get to be a part of the Reel Hooligans podcast. But first, we need talented voices to write a little bit of everything. We want to tap into your niche, starting with:
movie reviews!
casting news!
TV episode recaps!
more! more! more!
You get the picture. If this sounds like something you've been looking for, follow your destiny and join the Reel Hooligan family!
A Reel Hooligan must:
Have passionate love for movies and/or TV. What is your passion? What fuels the inner geek in you? That's what we want out of you.
Have a firm grasp of the written English language. You don't have to have a college degree, but you need to prove you can write like a pro.
Have an opinion (and a tough skin). We don't expect you to agree with everyone else, just don't always expect everyone to agree with you.
Ready to see if you've got what it takes to be a Hooligan? Send us a cleverly worded email and tell us a little bit about you and why you think you'd be an asset to the Reel Hooligans squad. Send a writing sample or two showing us a little bit of your talents. Don't have a sample? No problem. Write a short 100 word review of the last movie you saw. Easy peasy.