Is the Jackman's last stand as Wolverine?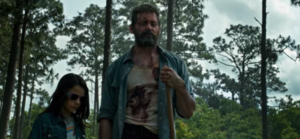 I'm sticking by my "one trailer only" rule. New Year's Resolution after my Rogue One meltdown. So, I haven't watched this bad boy yet. That being said, I'm psyched for this movie. Rumors have it (sorry, not linking to rumors) that Hugh Jackman may not quite be done playing Weapon X. Pairing up with Ryan Reynolds' Deadpool, properly this time, may be too sweet of a proposition to pass up.
The third stand alone featuring Wolverine, Logan catches up years after the events of Days of Future Past. Logan is getting old. His powers are fading. The mutants are long gone. Loosely based on the graphic novel, Old Man Logan, this will be the first X-Men universe movie with an R rating.
Logan is directed by James Mangold stars Hugh Jackman, Dafne Keen, Boyd Holbrook, and Patrick Stewart. Look for it in theatres March 3.
Logan trailer #2: