Marvel's Friendly Neighborhood Spider-Man comes home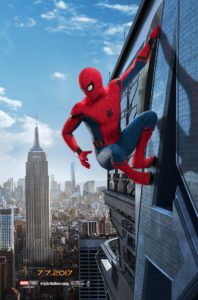 It's one of the most hyped movies of the year and not just because of the buzz Tom Holland created with his cameo in last year's Captain America: Civil War. No. Spider-Man: Homecoming represents something much bigger — a rare joint blockbuster film effort from Disney, Marvel Studios, and Sony Pictures.
The agreement allows Marvel to use Spidey in the upcoming Avengers: Infinity War double feature, as well as two co-produced solo Spider-Man flicks. After that, a new deal would have to be negotiated, but both studios would be retarded if they failed to continue this partnership.
Recently at CinemaCon in Las Vegas, Homecoming producer (and former Sony boss) Amy Pascal had this to say about the unprecedented relationship:
"One of the things that I think is so amazing about this experience is that you don't have studios deciding to work together to make a film very often.

"In fact, it may never happen again–after we do the sequel. "Because Sony and Disney and Marvel all decided that the right thing to do was to allow Peter Parker and Spider-Man to be in the MCU, and to work with the Marvel guys and have them produce this film, and I think that was a very rare thing for three companies to do and a very brilliant thing for them to decide to do because there are only so many stories that you know you can tell again and again and again about Spidey, and this is something that we would never been able to do in any other way.

So, it was a very selfless thing that was very smart on the part of all the companies."
Does this mean the relationship is strained? No. It just means "business is business" and everyone just wants to see some box office receipts before the next stage of negotiation begins.
Currently, Sony is moving into the early stages of production on a standalone Venom movie as well as a movie featuring Black Cat, another Spider-Man frienemy. No word on how (or if) these movies will be related to the Marvel Cinematic Universe.
Spider-Man: Homecoming (see what they did there?) hits theatres July 7 and stars Tom Holland as Peter Parker/Spider-Man. The supporting cast includes Michael Keaton as Adrian Toomes (The Vulture), Zendaya, Marisa Tomei, Donald Glover, and Robert Downey, Jr. as Iron Man, obviously (see, there's that harmonious synergy.)
Check out the new Spider-Man: Homecoming trailer.
Spider-Man Homecoming Official Trailer #2