Meet Surly the Squirrel July 4th in Kansas City!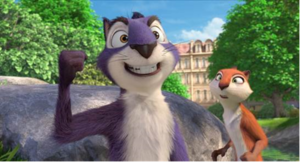 This weekend, Surly the Squirrel of The Nut Job 2: Nutty By Nature will be visiting Kansas City families on July 4th at Corporate Woods starting at 3:00 PM!
Bring the whole family to the Star Spangled Spectacular, pose for photos with Surly and get your hands on fun promotional items encouraging kids and their families to protect our parks by "Keeping it Clean!"
Star Spangled Spectacular (more info)
9401 Indian Creek Parkway
Overland Park, KS. 66210
Official synopsis: Surly Squirrel (Will Arnett) and the gang are back. We are once again in Oakton where the evil mayor has decided to bulldoze Liberty Park and build a dangerous amusement park in its place. Surly and his ragtag group of animal friends band together to save their home, defeat the mayor, and take back the park.
The Nut Job 2 also features the voice talent of Katherine Heigl (The Nut Job), Jackie Chan (Kung Fu Panda 3), Peter Stormare (Penguins of Madagascar), Bobby Cannavale (Ant-Man), Isabela Moner (Middle School: The Worst Years of My Life), and Maya Rudolph (The Angry Birds Movie).
The animated sequel comes to theaters everywhere August 11!
The Nut Job 2 Nutty By Nature — Official Trailer #2
Cast: Will Arnett, Katherine Heigl, Maya Rudolph, Bobby Moynihan, Gabriel Iglesias, Jeff Dunham, Bobby Cannavale, Isabela Moner, Sebastian Maniscalo, Peter Stormare and Jackie Chan
Directed By: Cal Brunker
Written By: Scott Bindley, Cal Brunker, Bob Barlen
Produced By: Mike Karz, Bill Bindley
Distributor: Open Road Films
Genre: Animated Comedy