Boseman takes on role of iconic Civil Rights leader
Since his debut as Jackie Robinson in 42. Chadwick Boseman has seen his career skyrocket. His performance as Robinson was so good there he earned a spot among Marvel's Avengers as Black Panther. With his talent, he's in a position to write his own ticket.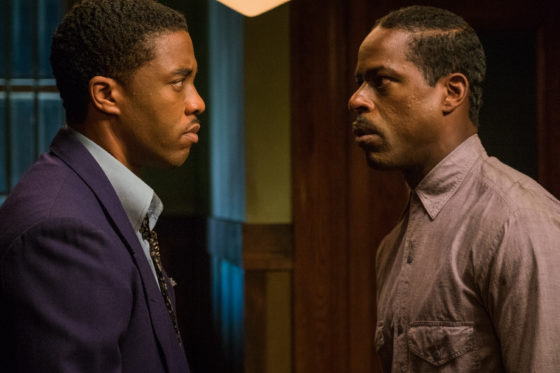 But before he dons the cat outfit again for Black Panther, Boseman is talking on the role of an iconic figure in the battle for human rights and racial desegregation, Thurgood Marshall. This is his origin story.
You see, long before he sat on the United States Supreme Court or claimed victory in Brown v. Board of Education, Marshall (Boseman) was a young rabble-rousing attorney for the NAACP.
Direted by Reginald Hudlin and written by Jake Koskoff and Michael Koskoff, Marshall is based on the true story of his greatest challenge in those early days – a fight he fought alongside attorney Sam Friedman (Josh Gad), a young lawyer with no experience in criminal law: the case of black chauffeur Joseph Spell (Sterling K. Brown), accused by his white employer, Eleanor Strubing (Kate Hudson), of sexual assault and attempted murder.
Marshall hits theatres on October 13.
Marshall – Official Trailer