Hollywood stars, former MLBers honor baseball legend

From Harrison Ford to George Brett, stars from the movie 42, as well as current and former major league baseball players and a few ties to the legends of the Negro Leagues, were drawn together to honor a man, Jackie Robinson, who became a pioneer for ending racial segregation when he crossed baseball's color barrier in 1947, when he played his first game as a member of the Brooklyn Dodgers.
The event was held at the AMC BarryWoods Theatre in Kansas City, Mo. and was sponsored by the Negro Leagues Baseball Museum, which opened in 1990 and is located in the historic 18th and Vine District of Kansas City. The museum pays homage to the forgotten heroes of baseball, who also just happen to be some of the best players to ever play the game.
Kansas City Mayor Sly James believes Robinson not only helped break the color barrier of baseball but also in American culture and society as well.
"He was a high profile African-American, something that people in this country hadn't seen before and it forced people to re-examine their thoughts and beliefs, " Mayor James said. "The fact that all that started in Kansas City makes this place very special."
Among the stars from the film that were in attendance, the big attraction was obviously Harrison Ford, who is a legend on his own, even taking time to sign autographs for fans who braved the cold.
Chadwick Boseman, who plays Jackie, seemed to be enjoying the spotlight, smiling the whole time. Andre Holland and Derek Phillips, who play instrumental characters in the movie talked about the challenges of playing their historic roles.
"In general, it's a tough thing because you've got to tell the story but you want be complete and totally true to the man, " said Phillips, who plays Bobby Bragan in the film. "Because you do owe it to his family the respect of portraying him in a way that feels right."
Besides the Hollywood stars, there were plenty of former and current Major League Baseball players in attendance from Hall of Famer Lou Brock to Bobby Bonilla and Tony Clark. Even with all of the national media and Hollywood celebs on hand, this was a Kansas City event, after all.
Past and current Kansas City Royals players also attended to soak up the Hollywood glam and pay their respects to a man who had the courage to become the face of change. George Brett, Frank White, Willie Wilson and Dennis Leonard were among the former Royals greats who were in attendance at the premiere event, walking the red carpet and praising the event as well as the efforts of the Negro Leagues Baseball Museum.
"Hopefully this will raise a lot of money for it (the NLB Museum) and keep it afloat for a long, long time and make Kansas City more of a destination for people that love baseball, " Brett said.
With a night off from their season, a few members of the current Kansas City Royals were there as well to enjoy a day off from their first place start but to take advantage of this rare and prestigious event for Kansas City. First place might be new for the team but so was the red carpet.
"Maybe if we win some more games, we'll get a few more of these," said Royals All-Star DH Billy Butler. "The All-Star Game was obviously intense but this is right up there."
Even with all of the excitement about the big stars who were in attendance, there was one man, who was on the minds of many — former Monarchs legend John "Buck" O'Neil. Instrumental in bringing the Negro Leagues baseball museum to Kansas City, Buck O'Neil passed away in 2006. Nobody would have been happier to see the legend of Jackie finally being told, not to mention being celebrated with an event like this.
"He would be so excited. He would own the red carpet, you know that," said Negro Leagues Baseball museum president, Bob Kendrick. "This is such a major accomplishment for his museum and to have this kind of connectivity and affiliation with a project of this magnitude that is shedding new light on obviously one of the greatest American heroes ever…Hopefully this movie will remind people how great the Negro Leagues were."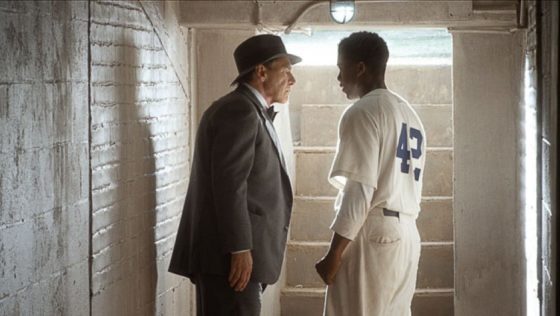 The legacy of Jackie Robinson and his place in baseball will never be forgotten. David Robinson, son of the late Jackie Robinson believed his father would hope the film would be a reminder of the struggles he faced and the message he conveyed.
"He would have used today to continue to meet those challenges and he'd want today's players to do the same."
For more information: 42KansasCity.com